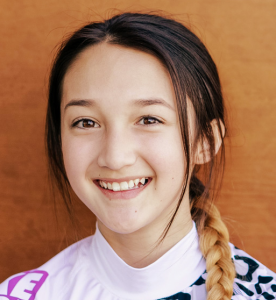 "I feel free in the wind tunnel. Noone tells me what to do, I simply feel good in there. Flying drives all thoughts out of my head" – Amy Watson
Amy Watson was born on 27th July 2005. She is one of the youngest professional indoor skydiving athletes of the world. She tried indoor skydiving for the first time at the age of 9 in Sydney and she quickly turned out to be very talented. From 2016 on she's been training with world champion Inka Tiitto. From July 2017 she competes under the banners of Space Devil Sports Club.
Her best results:
Australian Nationals 2016: 1st place
Polish Open 2016: 1st place
World Cup 2016: 4th place
US Nationals Open 2017: 1st place
Australian Indoor Skydiving Championship, 2017: 1st place
Her aim is to become a World Champion and to encourage other kids into the sport.